IAML Australia is pleased to be holding the IAML Australia 2016 Conference at the historic Brisbane site, The Ship Inn. The block of land on which The Ship Inn would be built on was purchased by Daniel Donivan in 1864 and began construction on his hotel which was to be named the Railway Hotel which would open in 1866.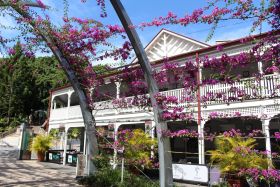 The Ship Inn 1985 and 2016
The Railway Hotel would be abandoned within a year and remain unlicensed until 1879 when William Munro leased the hotel from Peter and Margret Gaffey and opened the newly licenced hotel under the named The Ship Inn, which it still trades under to this day. The Ship Inn was popular with wharf and railway workers from around South Brisbane and later became popular with American sailors in the second World War.
In 1967 Kevin Nunan became The Ship Inn's licensee and provided a marked change by having live music in the hotel's lounge on Friday nights. In the 1970's Indigenous band the Magpies (and later known as the Drop Outs) regularly played at the Ship Inn. (1)
After 100 years, The Ship Inn was forced to close its doors in 1979. It would not reopen for another eight years, after major renovations were done in the lead up to the 1988 World Expo. It operated as a night club during the expo and was open 24/7 all of that year.
In 2000, Griffith University bought The Ship Inn and in 2003 announced its redevelopment along with the building for a new post-graduate studies centre next door. This redevelopment along with the college of Arts and the Conservatorium being so close by means that The Ship Inn is a key component to both the educational and entertainment prescient of South Bank to this day.
For more information please read The Ship Inn Hotel: A Story of South Brisbane and Southbank

(1) Stafford, A. (2004). Pig City: From the Saints to Savage Garden. University of Queensland Press. Pg. 158-159.