e State Library of Queensland has an exciting new music research fellowship opportunity available.
The inaugural Letty Katts Award supports the research and documenting of Queensland's music history. It gives a musician, composer, scholar or researcher the opportunity to study, experiment and explore new thinking in their art/study, leading to the creation of new knowledge or work/s inspired by Queensland's music history.
The Award commemorates Queensland songwriter and musician Violet Mellick (stage name Letty Katts), and is supported by an endowment to the Queensland Library Foundation by Stanton and Jill Mellick.
Letty Katts composed the songs "Man From The Never, Never", recorded by Slim Dusty, and "A Town Like Alice", the iconic Australian song from the 1956 movie of the same name.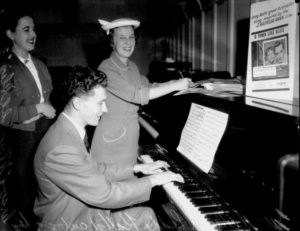 Mrs Mellick (Letty Katts) autographing her song 'A Town Like Alice' 1956 (John Oxley Library, State Library of Queensland Neg: 199215 http://hdl.handle.net/10462/deriv/97433)
The recipient will receive $5,000 along with a personal workspace within the Neil Roberts Research Lounge for a period of 3 months, granting unparalleled access to collection items, as well as expert advice from State Library staff for the duration of their project.
Enquiries or requests for further information should be directed to the Project/Support Officer, State Library of Queensland on 07 3840 7887 or email Fellowships@slq.qld.gov.au.
Information and application forms can be found on the SLQ website.
All applications must be received by 5pm on Thursday 31 March 2016.